Hi everybody...
I would like to introduce myself to you, my visitors, and give you an idea how this web site was created.
Before I begin, I have to say that English is not my first language, therefore I apologize in advance for any grammar mistakes :)

Here is my story...
My Name is Nili Binyaminy and I'm the owner/creator/designer of this website.
I'm a single mom of two beautiful kids. My son is 10 years old and my daughter is 6 years old. They are the pride and joy of my life and I love them more than anything!! Come to think of it, thanks to them this web site was created.

My professional journey
I didn't begin my professional career as a graphic designer. Actually I have a B.A in Computer Science and I worked as a computer programmer for 4-5 years.

When the startup company I worked in had financial problems they fired almost every employee and I became unemployed. Computer programming was not my passion and I had no desire to find a new programming job. So I took that opportunity to explore one of my long time passion - Horses!!

After this decision was made I spent two years experiencing everything I could with horses and I became a certified Equine Canada Coach. Working with horses was one of the best time of my life.

A short time after that I got married and gave birth to my son. Staying at home with him and be a full time mom meant everything to me and I enjoyed every minute of it :). Unfortunately our financial situation required me to find a job.

Going back to the horses business or the hi-tech world was not an option to me because it meant leaving my son from 7am till 6pm and I did't want to do that. With time I realised that working from home was the ideal solution for me.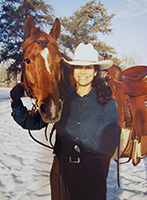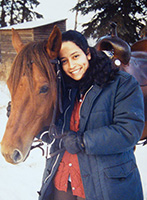 I wanted to use my computer skills but I also wanted to enjoy what I do.
I remembered the graphic designer I worked with when I was a computer programmer. I used to be more interested in her work than mine :) so I decided to give it a try and see what happens.

I bought from amazon many books on the subject and I taught myself all three major graphic design programs. With every step I took it felt more and more right. I really really loved it. All this creating/designing made me happy. It gave me a place to express myself and it gave me a way to stay at home with my son. All pieces were falling into place.

Me and Graphic Design

When my son was in kindergarten I worked halftime in a graphic design studio and I learned a lot!!
After my daughter was born I wanted to stay at home with her as well so I stopped working again and the idea of having my own business came to mind.
I loved designing personal items for friends and family. Things like: family calendars, albums, collages and of course greeting cards (on birthdays, holidays, to my kids' kindergarten teachers and more).
With those feelings and thoughts the idea of this website came to life.

My website

I knew my business will be an online business but I didn't know what should I focus on or how to build it.
Researching the web for help, I came across the SBI (Solo Build It) website and it sounded perfect for what I needed.
I took my chances and I joined SBI.
With their guidance I built this website step by step.
With their tools I built my plan for this website.

I knew from the start that a big part of my website would be free downloads.
I wanted to share just for the sake of sharing and I chose greeting cards because to me, greeting cards should be available to everyone, and thanks for todays technology it can be done:)
For me, creating these cards is a labor of love. I really enjoy it.
Other people using my cards to make other people happy is a great feeling .

I got a few thank you letters from you (my visitors) telling me your story.
I want to take this opportunity to say it back: Thank YOU!! Thank you for visiting my site and using my cards to make other people happy.
My goal for this site is to inspire all of you to show your loved ones how much they mean to you, to let them know you care and you remember. It's easy, available and free :)

Once this decision was made I put everything I got into this website.
It was a difficult year for me because I was going through my divorce, but slowly my site began to grow and hopefully with your help it will keep on growing.

My Shop

With time I discovered the printables world and I felt this is it - I want to be part of it.
I also have to make a living so I opened my Etsy shop and now I sell some of my printable artwork.
Hopefully now that you know me and my work you would like to buy some of my other artwork .
That way I can keep this website alive for you :)

Today

I'm happy now because I'm doing something I love to do and I can also be here for my children.
I thank God for this everyday and I pray it will last.
Time will tell if I can make a living from my artwork...

I would love to hear from you so please feel free to leave me a comment or just say hi at the bottom of this page or at my contact-me page

Enjoy your printing and see you around,
Nili :-)